– Before the injury, I was just like any other girl who loves sports and music: swimming, track and field, piano and choir, – recalls Svetlana. My life had a rhythm and I was ambitious. I wanted to try it all and catch it all.
It was spring time and my boyfriend and I decided to go to the country side on a motorcycle. I can call it nothing but the ill fate – we got into a road accident. I had severe injuries with the main injury in the cervical spine. Life changed dramatically, it got split into the life "before" and "after."
"The wild desire to live saved me"
Today Svetlana prefers not to talk about her age as she feels like she's a little over 25. After the injury she continued to be just as cheerful and active. In a rehabilitation camp six years ago she first learned about such a Paralympic sport as Boccia.
– Boccia is perfect for me. People with such an injury as mine are usually physically weakened: their hands do not work well, and the movements are not fast enough. This sport has a lot of advantages in addition to physical activity: tactics, accuracy, analysis and excitement, of course.
Rules of the game:
there are several formats in Boccia – individual, doubles and group (three to three). The team game envisages involvement of a captain who decides to whom to throw the ball, and analyses all the details. The game begins by throwing Jack, the white target ball. Further, each player throws their ball so as to get as close to the white ball as possible and to prevent the opponent from getting close to the Jack. The team whose ball is the closest to the white target wins.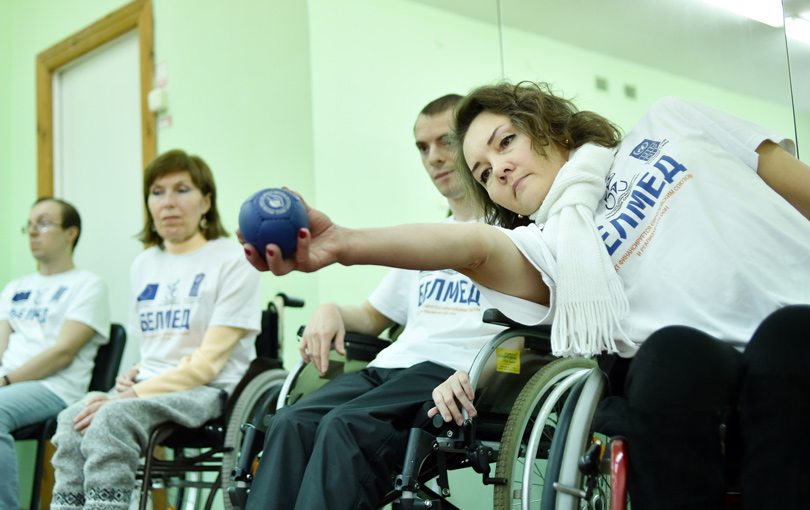 As of today, Svetlana is a master of sports in Boccia. This year she won the first place during the championship in Belarus.
– Honestly speaking, I did not expect this from myself. I would never have thought that I would become a champion. I just played for pleasure, – laughs the girl.
She is being modest, because her hobby has grown into a professional sport. Now Svetlana is a member of the Belarusian national team in Boccia.
– It's easier to do this sport in other countries. Training is available to anyone. Families play the game. Here in Belarus, only some people may afford a set for the game. One set is about €400. Also, you wouldn't find a set like this to buy here. In our Center we try to take good care of the set: we don't play outside, as this may ruin the balls in no time.
I started to play Boccia more often thanks to the initiative, this motivated me. I will be straightforward; I have a dream: I want to go to the Paralympic Games ...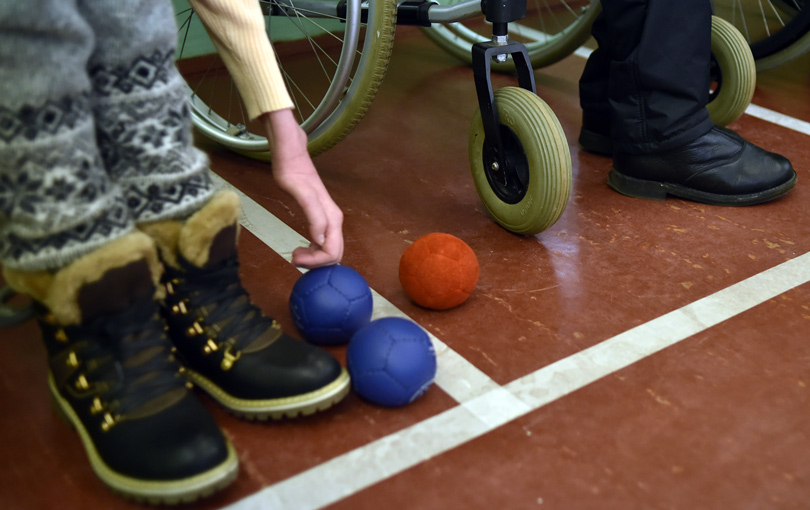 "I have a dream: I want to go to the Paralympic Games"
In winter and late autumn, it is challenging for Svetlana and other athletes to commute to training sessions on wheelchairs as there is no strong infrastructure. Therefore, everyone keeps waiting for spring and summer, the best seasons for the drills.
The athlete has a lot of other hobbies beyond Boccia: she is trying to live a healthy lifestyle. Last year, she jumped with a parachute together with other guys and girls. For her, this step was a new challenge, which she boldly accepted.
– I was not afraid, because, I was confident in myself. Rather, I was worried about the equipment and the parachute itself, – smiles the girl. – The jump was in tandem, so a lot depended on the instructor.
I still remember how we went on a jump – this view is impossible to forget. I was already hanging overboard when my instructor was just tearing his feet off. I also remember the endless horizon and the heat of the sun. I didn't tell anyone about my jump, I didn't want to worry anyone, because I was sure that everything would work out.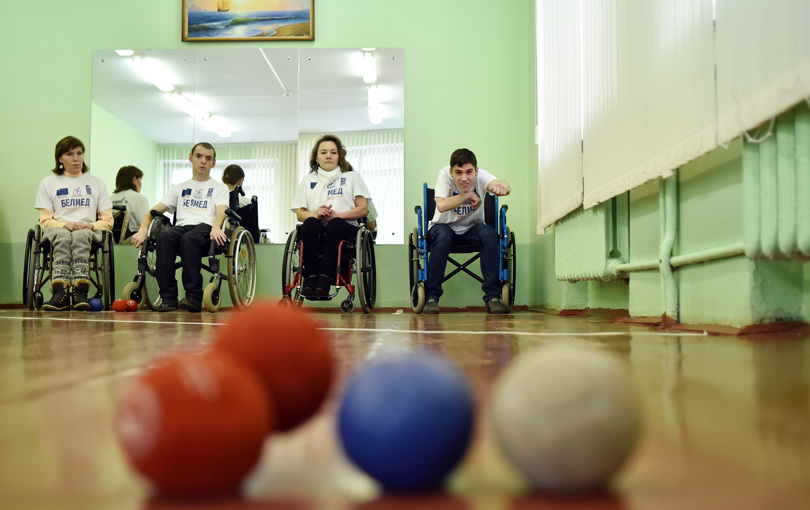 Sports for Svetlana is an opportunity to fulfil her own self… As she has no job: it is challenging for wheelchair users to find a job, it is sometimes next to impossible.
– I want to believe that the incentives for the organizations recruiting people with disabilities will work out. Because we are just as human, we are prepared to work hard and demonstrate results. It's only that we move around in a different way.
The "From a healthy person to a healthy society" Initiative was implemented within the framework of the
BELMED
Project, which is funded by the European Union and co-implemented by UNDP, WHO, UNICEF and UNFPA in partnership with the Ministry of Health of the Republic of Belarus. Implementing agency: Homieĺ Region Public Association of People with Musculoskeletal Disabilities "Invalidy-spinalniki".