New regional EU-funded action: "EU4Environment" was presented today in Minsk. The information meeting gave an overview of its main elements and provided space to discuss possible priorities and next steps for action's implementation in Belarus.
The meeting was opened by Deputy Minister of Economy
Dmitry Matusevich
, Deputy Minister of Natural Resources and Environmental Protection
Alexander Korbut
and
Berend de Groot
, Chargé d'affaires of the European Union Delegation. It brought together high-level representatives of the Belarusian government agencies, civil society, private sector and international organisations.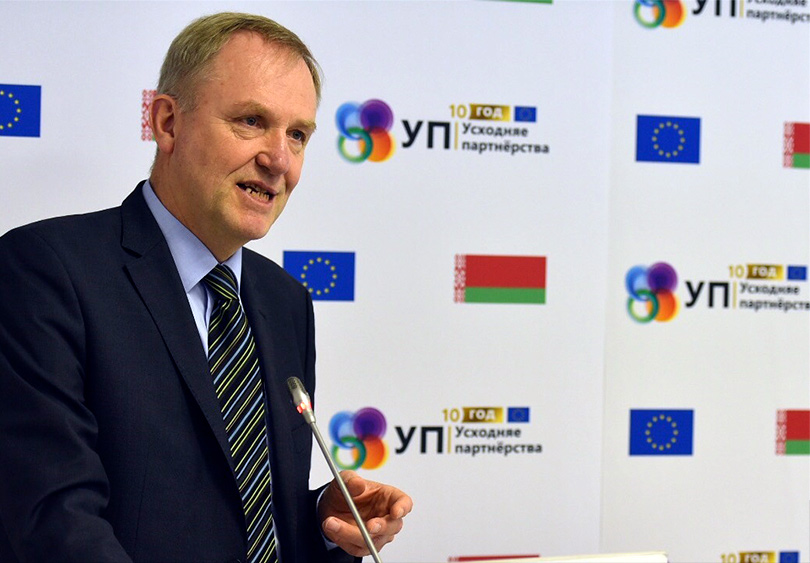 Berend de Groot
underlined: "We will certainly build on past achievements in Belarus, such as the adoption of the Green Economy Action Plan, progress on resource efficiency and cleaner production, training of public servants on sustainable public procurement, sustainable forest management – to name a few areas where progress was made."
The EU-funded regional "EU4Environment" Action aims to help six Eastern Partner countries – Armenia, Azerbaijan, Belarus, Georgia, the Republic of Moldova, and Ukraine – to preserve and better use their natural capital, increase people's environmental well-being and stimulate economic growth.
It will be implemented in 2019-2022 based on a budget of some EUR 20 million by five international partners: OECD, UNIDO, UN Environment, UNECE and the World Bank.
The
EU4Environment
builds on the achievements of the previous EU-funded "Greening economies in the Eastern Neighbourhood" (EaP GREEN) Project, which contributed to the adoption of the National Green Economy Action Plan 2016-20, the development of a new Law on State Ecological Expertise, SEA and EIA, and related secondary legislation and encouraged cross-ministerial cooperation and awareness raising. The RECP concept, introduced for the first time in Belarus, was applied in 125 enterprises, resulting in improved resource productivity and environmental performance. The Action also builds on the achievements of the Forest Law Enforcement and Governance (FLEG) and the Emerald Network. FLEG 2 supported the development of a Strategic Forestry Development Plan (2015-2030) in Belarus with the view to create highly productive and sustainable forests.