On 11 and 12 November, the Minsk Johannes Rau International Centre for Education and Exchange hosted an international seminar on assessing and measuring emissions of volatile organic compounds and on environmental permits.
The seminar was co-organised by the Task Force on Techno-Economic Issues of the UNECE Convention on Long-Range Transboundary Air Pollution and the European Union's Project "
Strengthening Air Quality Monitoring and Environmental Management in Belarus
" (SAQEM).
Three dozens of experts from Germany, France, Bulgaria and several EECCA countries including Georgia, Ukraine, Moldova and Belarus discussed the policy and practical measures that are currently implemented in the European Union and in the above-listed countries in relation to air pollution monitoring and control comprising, in particular, measurement techniques, principles and provisions concerning emission thresholds, the worst available technologies and the framework of integrated environmental permits.
"This seminar, – mentioned
Alexander Grebenkov
, the SAQEM Project Expert Team Manager, – has developed into an actual working meeting of experts from various countries. There, we have discussed the issues of hands-on application of the methods, provisions and guiding principles of the Gothenburg Protocol concerning regulation of VOC emissions. The project experts, staff of its pilot enterprises and representatives of regional committees of the Ministry of Natural Resources and Environmental Projection shared their experience of incorporating the European requirements into their national systems of environmental permits. The discussion results will help adjust the project plans for further improvement of the system in Belarus, which we are going to carry out in near future with support from our Belarusian colleagues."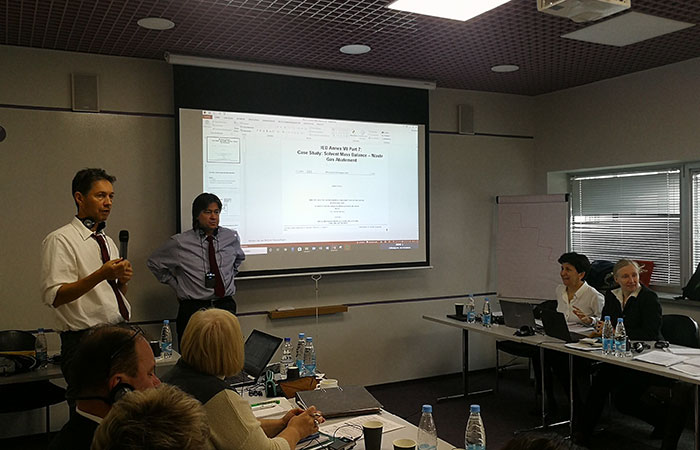 On the Photo:
Robert Behm
from the Bavarian State Environment Agency, Germany; and
Richard Schlachta
from of the Bavarian State Ministry of the Environment and Consumer Protection, Germany.