The first school green roof has been сreated in the Marjina Horka gymnasium within the "Supporting the transition to a "green" economy in the Republic of Belarus" project, funded by the European Union and implemented by UNDP in Belarus in partnership with the Ministry of Natural Resources and Environmental Protection of the Republic of Belarus. The opening ceremony took place on 27 June and welcomed the representatives of the Minsk region administration.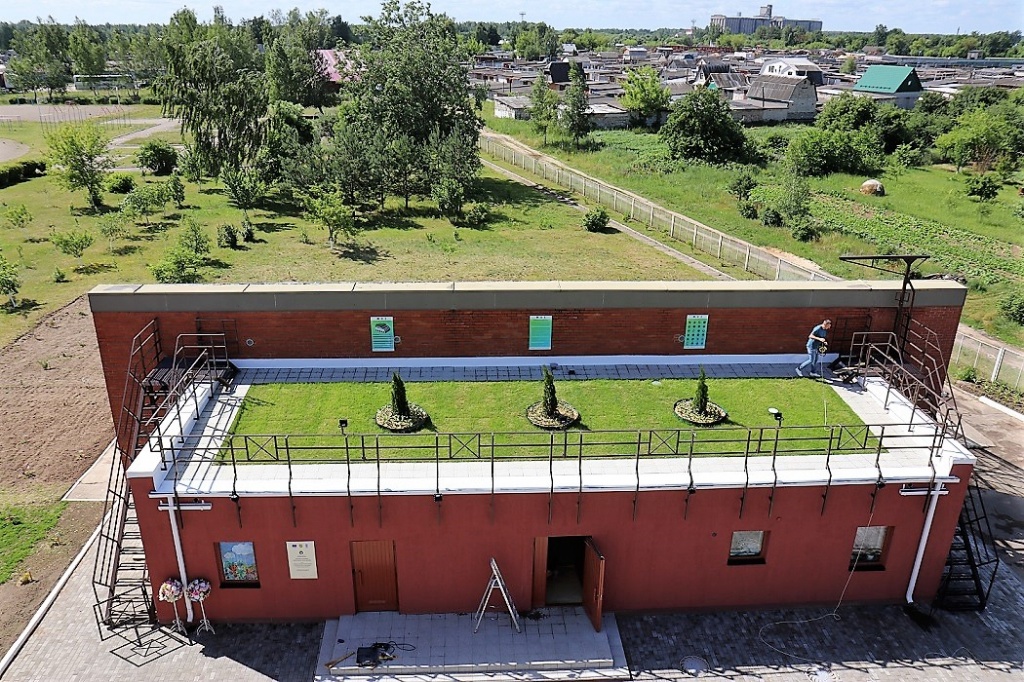 The roof of the local school greenhouse has become a pilot site for the project. Green technologies helped to revive the greenhouse as its roof was modified based on foreign expertise in urban roofs greening and maintaining. The initiative was also based on the experience of the Warsaw Library "greening".
A floor slab, a damp-proof carpet, a heat insulating layer, a profiled drainage membrane, a filter layer and soil were used for a green roof build-up.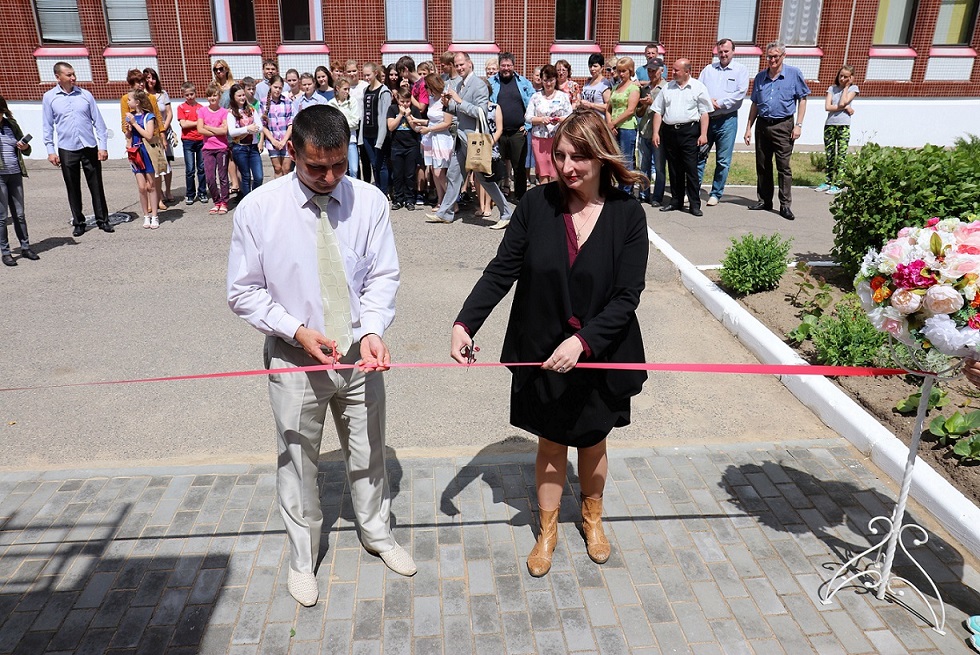 The eco-design that is new for Belarus not only provides the building with an aesthetic look but also suggests a whole range of ecological, engineering and economic benefits.
The green roof solves the problem of reducing the number of green zones per city resident. Research shows that 150 m² of the green roof is enough to provide 100 people with oxygen throughout the year. Being an additional source of oxygen, the green roof absorbs dust and toxic fumes from the environment, creating a natural green zone and adjusting air humidity.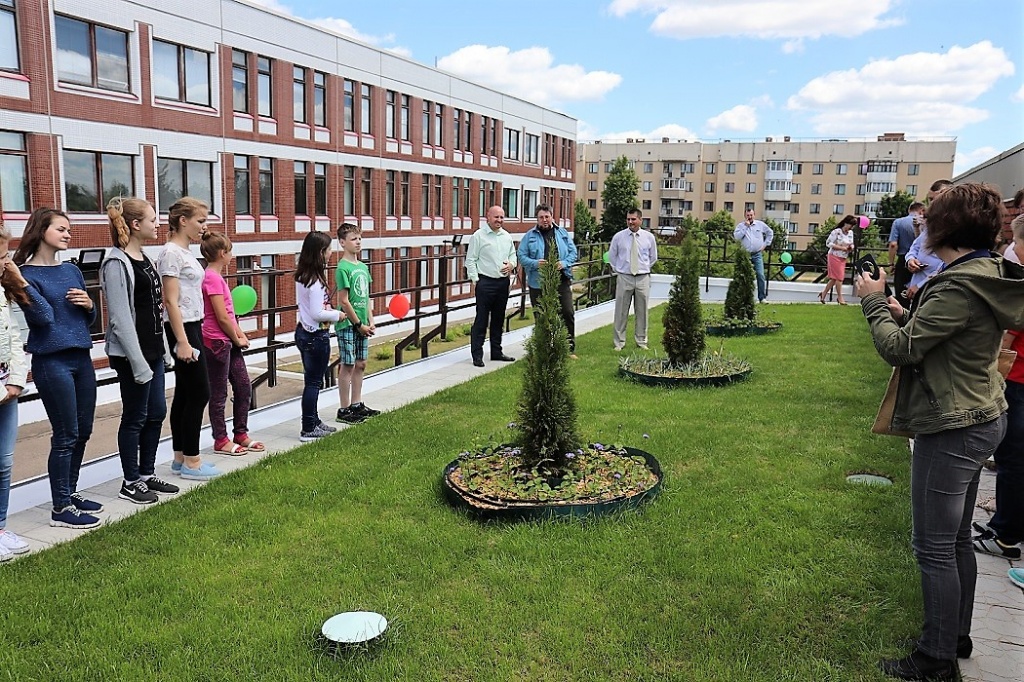 The green roof will significantly increase the lifespan of the building structure: plants on the roof serve as a natural protection against temperature fluctuations, mechanical damage and ultraviolet radiation exposure. Due to the excellent thermal insulation qualities of the green roof, passive heat savings are ensured – energy is stored during winter periods, while the roof does not overheat during hot seasons. In addition, thanks to the filtering properties of the green cover, the green roof helps to clean the rainwater before it enters the soil. The rainwater kept by the green roof will also help water the plants.
This pilot initiative also has an educational purpose. The roof of the greenhouse will be transformed into an open-air classroom where biology and ecology classes are going to take place in spring and early autumn. Acquiring environmental skills at school, children will share them with their parents. Thus, the green roof will help to raise environmental awareness among children and adults.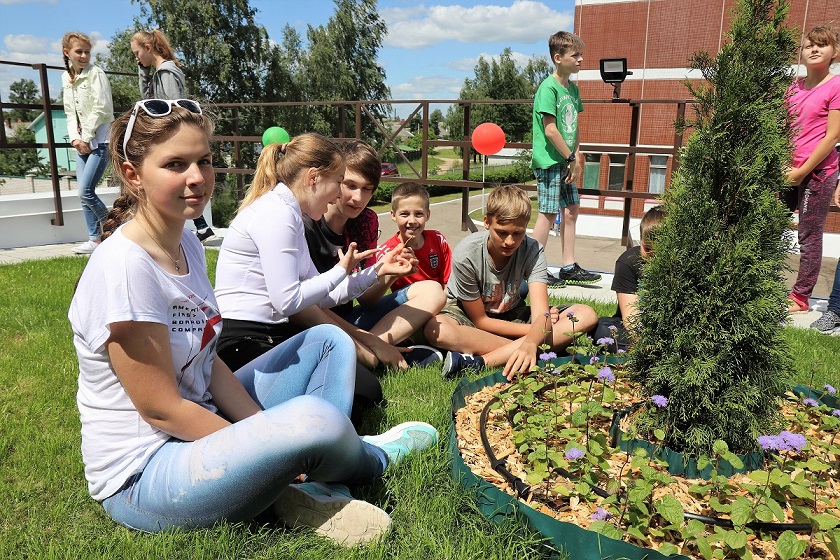 The project "Supporting the transition to a "green" economy in the Republic of Belarus", within which the green roof has been created, aims at supporting the Republic of Belarus in generating "green" economic growth, including environmentally sustainable and economically feasible use of natural resources, promotion of green production and green consumption patterns, green jobs creation, changing target group's behavior towards greater environmental sustainability. The budget of the project is 5 million euro.