In November 2020, Natalia Vasko, Director of a private socio-ecological institution called ApiMir Beekeeping Development, won the Entrepreneurship Development Initiatives competition with her project, "ApiMir: New Opportunities for Rural Business". With the financial support of the European Union as part of its EU4Business Initiative, namely the "Support to Economic Development at the Local Level in the Republic of Belarus" project, Vasko plans to open a support center for novice beekeepers in Žlobin County.
"I had the idea to open a support center to promote beekeeping for a long time, but I didn't have a complete business plan or funding," recalls Vasko. "In May 2020, I took an online course at the EU-supported Social Entrepreneur School run by the Clever.by Business Incubator in Žlobin. With the help of professional instructors, I developed a clear plan, defined some goals, and did all the calculations."
Vasko's business plan turned out to be one of the best among the participants. "My goal is to attract as many people as possible to beekeeping, because this is a worthwhile and profitable business that is beneficial both for nature and people," says Vasko.
To popularize beekeeping in the community, Vasko's Support Center will have a demonstration area, where excursions for novice beekeepers and art picnics will take place. During the sessions, participants will be able to learn how to get started in beekeeping and about some of the know-how for keeping bees.
The Center will have a shared access facility, where the necessary equipment will be available, including a honey extractor, a wax melter, filters, and a table for unsealing honeycombs. A carpentry workshop will make it possible to manufacture wood products for beekeeping such as beehives, frames, containers for beekeeping products and other related supplies.
Vasko learned beekeeping from her father-in-law, Alexander Petrovich, a beekeeper with 17 years of experience. Not only has she managed to continue the family tradition, but she also brought the family business to the next level by adding a social component. This amazing woman has a lot of charisma, passion and dedication to her work.
Vasko's far-reaching plans include setting up a bee laboratory, where bee colonies can be hatched, and building an apitherapy house to provide hive therapy—"Sleep in a beehive."
The initiative is expected to help establish a partnership network among local artisans and entrepreneurs, and increase the number of rural residents involved in the beekeeping business. Locals will have an opportunity to gain additional income. For some of them, this will be a life-changing chance to become beekeepers or makers of beekeeping supplies. Local residents and guests alike will be offered high-quality, eco-friendly and healthy beekeeping products and will be able to improve their health.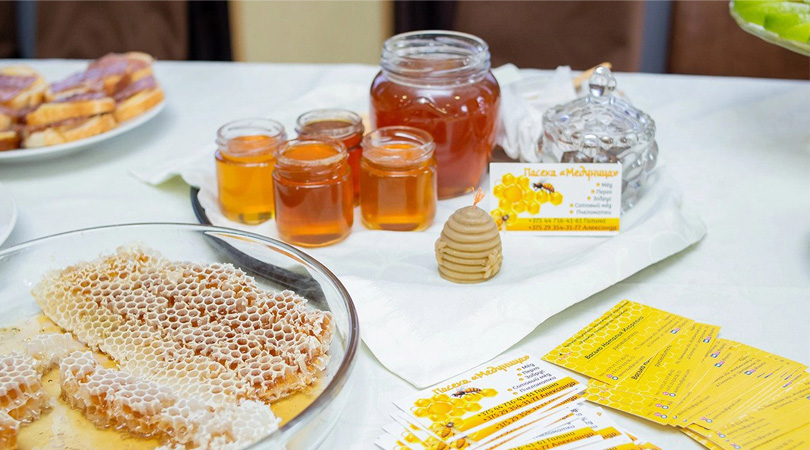 The initiative contributes positively to the global challenge of preserving and multiplying the bee population, and is also beneficial for the local economy, since bee pollination is essential for many crops important for agriculture.
The Clever.by business incubator was launched in Žlobin as part of the "Support to Economic Development at the Local Level in the Republic of Belarus" project under the EU4Business umbrella in early 2020. In May 2020, the incubator launched a series of workshops for residents of Žlobin at the Social Entrepreneur School This was practical hands-on training, online, for aspiring entrepreneurs. The course offered an extensive program in such topics as social entrepreneurship, design thinking, business planning, brand-and image-building, marketing strategy for a social enterprise and its promotion, company project activities, bookkeeping, and tax optimization.
The Support to Economic Development at the Local Level in the Republic of Belarus project is funded by the European Union (EU) as part of its EU4Business Initiative and implemented by the United Nations Development Programme (UNDP) in Belarus, in partnership with the Ministry of Economy of the Republic of Belarus.