Until recently, Talačyn children in need of rehabilitation had to go to the regional hospital, and the distance to Viciebsk is about 130 kilometres. Now, rehabilitation is performed in Talačyn District Hospital.
It has become possible owing to the World without Borders local initiative that was supported by the Support to Local Development in the Republic of Belarus project. The project was financed by the European Union and implemented by the United Nations Development Programme (UNDP). The grant size was US Dollars 29,500 including the EU funds of USD 24,050; the remaining amount was provided from the local budget.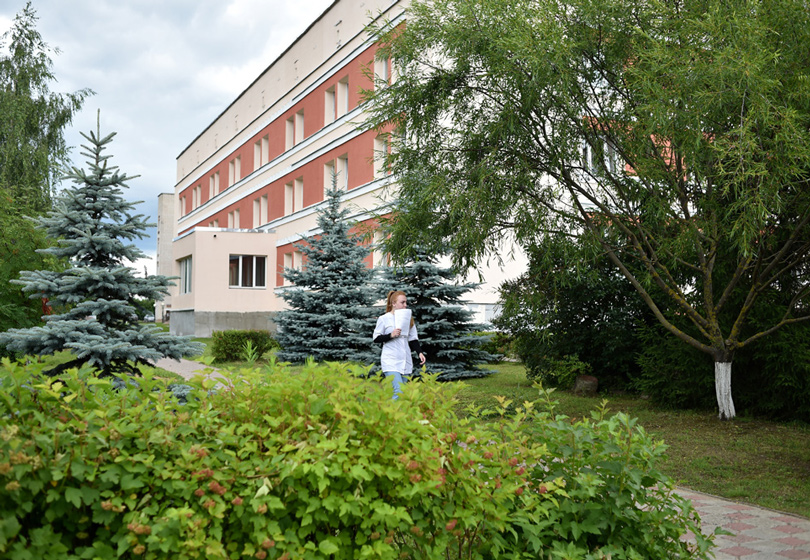 No need to go to Viciebsk for the procedures
The Talačyn District Chief Physician Aleksey Vishnevsky has been holding the position for ten years already. When he took it on, he was the youngest chief physician in Viciebsk region. Vishnevsky is a surgeon; he has been practicing all the years of being in charge of the district healthcare. He performs both urgent and scheduled abdominal, chest surgeries, as well as surgeries after cranial traumas.
He says that in 2017, under the project they renovated and procured essential equipment for the children's game room, as well as for physical therapy and remedial exercise rooms.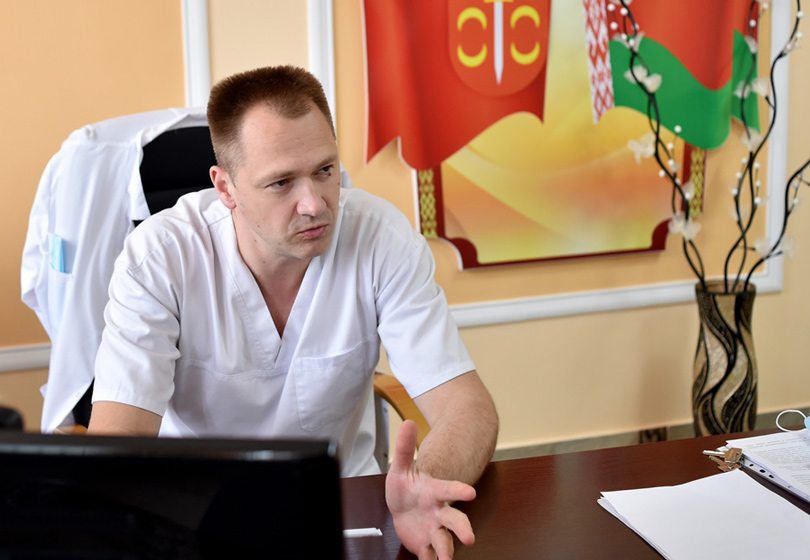 "76 out of 4,500 children from Talačyn District have disabilities, they have to undergo rehabilitation regularly, - said Aleksey Vishnevsky. – Moreover, any child admitted to the hospital has to undergo early rehabilitation. We used to do our work, but we would often send children to Viciebsk, as we lacked the necessary capacity, though we did have vacant areas. And so, we put forward our local initiative".
Of course, it is better to perform rehabilitation at the place of therapy or close to the patient's home. The family will then less suffer from stress, the child will face a lower risk of infection.
Besides, bringing children for the procedures to Viciebsk is rather costly for many families. It is a huge relief for the parents, when they are rehabilitated close to their homes, says the Chief Physician:
"It used to be quite difficult to send a mother with a child for rehabilitation. People from rural areas say that they cannot afford to leave their homesteads and homes for a long time. Only a few would agree to it, even though some of them get sick leaves for the child's rehabilitation".
The children's ward of the Talačyn District Hospital is usually fully occupied, but now they do their best to avoid hospitalizing children without a dire need because of the pandemic. Therefore, only two beds out of 15 are occupied now.
Hence, the physical therapy room is waiting for patients. It has nebulisers; it also offers heat and light therapy, massage and oxygen therapy.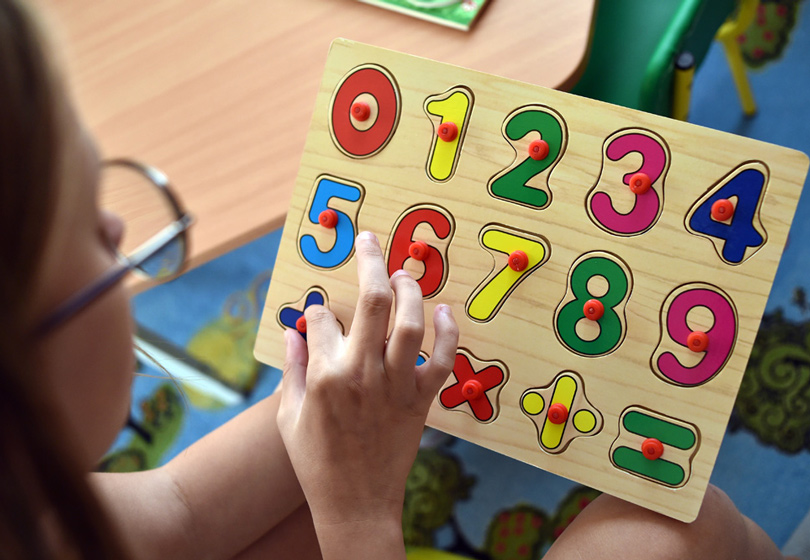 Masha and her mother checked into the hospital just a few days ago. The woman is happy that the conditions in the hospital are adequate, there are places where one can go outside of the ward, and spend some time in the well-outfitted game room.
The game room was also created under the project. "The exercise machines, - underscores Vishnevsky, - are not toys, small children may use them under the guidance of a medic".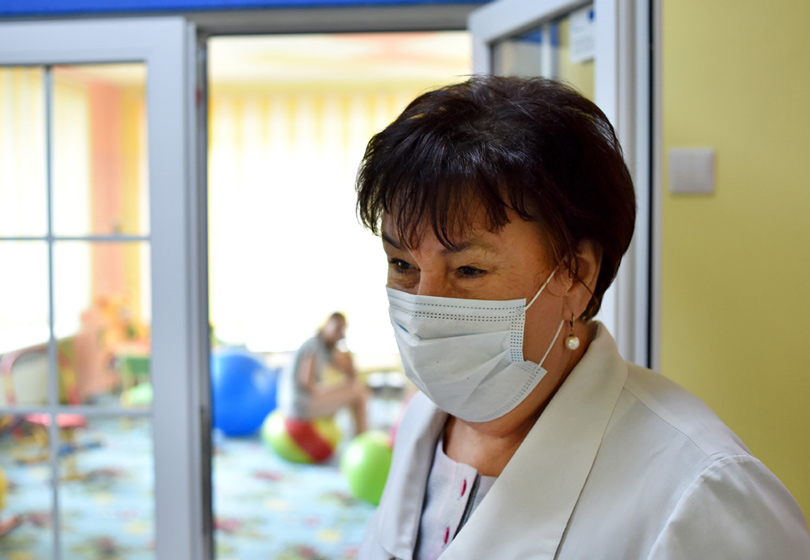 The district paediatrician Vera Pasyutina has been working in the hospital since 1985, when she moved to Talačyn from Brest following her husband. She has witnessed all improvements in child treatment and rehabilitation.
"Now, we can perform child rehabilitation upon admittance to the hospital. We were unable to provide it to children before: we lacked the gym, exercise machines , toys including toys for tactile development of children. It is particularly important for the rehabilitation of children with neutodevelopmental disorders, such as cerebral palsy. We are happy to be able to provide a higher-level care to children, notably, on the spot".
Exercise machines for children and medics
While things are slow in the inpatient section, activities in the remedial exercise gym of the polyclinic are in full swing. Children do exercises on the exercise machines and under specialist supervision.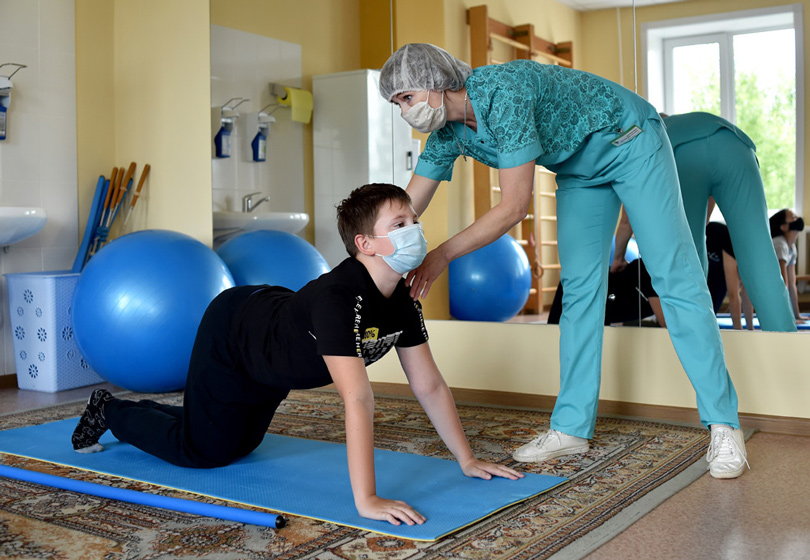 The hospital staff, says the Chief Physician, also come to work out on the machines after work. "Our gym is open for the personnel. Only a part of the available equipment is held in the gym. Some items are issued to children for exercises and are kept in a special room.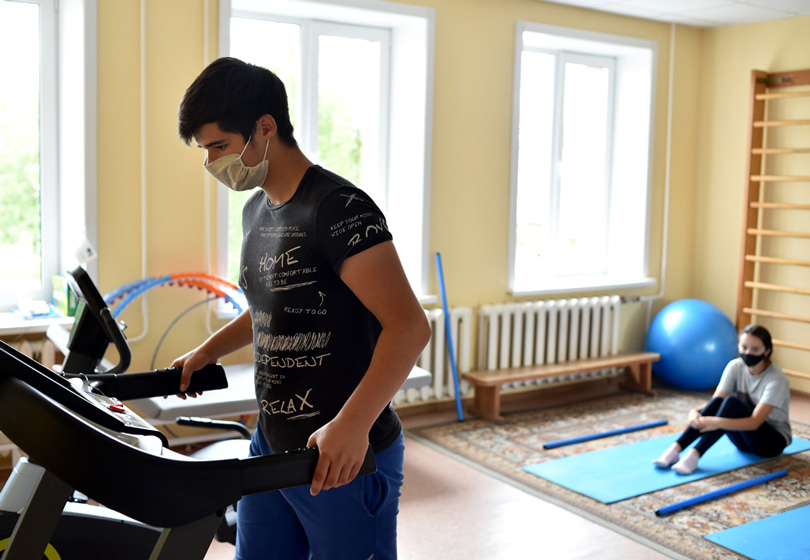 The hospital has accomplished the main objective, says the Chief Physician, - the project turned out to be long-lived: "We will resume our work, our objective now is to provide the rooms with supplies to ensure their sustainable operation. Rehabilitation is, in fact, a routine operation, but we have better conditions for it now. We have the personnel for it".
The district generally has no problems with staffing: the numbers of nurses and paramedics are sufficient; the personnel turnover is natural: some retire and others come from medical colleges to replace them. Neighbourhood physicians have been re-trained as general practitioners.
At the end of the summer, the district hospital expects to receive three young specialists: an addiction psychiatrist, an oncologist and a general practitioner. Oncologists are assigned rarely, so the district hospital must be very lucky to get one, and it would be nice to be able to underpin it with some diagnostic equipment.
They would like to improve both mobile and stationary diagnostics.
Residents of Talačyn District may use a CT scanner in Orša and an MRI unit in Viciebsk. Braslaŭ is the only district capital of Viciebsk Region that has a CT scanner. In addition to its high price, the scanner requires maintenance and operation by highly-qualified specialists. Therefore, hospitals set about preparing to acquire a CT scanner three years in advance.
In general, though, the district hospital's diagnostic capacity is greatly improved by the mobile diagnostic unit comprising several rooms: an oncologist's workstation, ultrasound diagnostics, mammography rooms, a general and a biochemical laboratories, a gynaecological room and a registrar's workstation.
It works like this: a vehicle with the equipment arrives at a settlement and stays there for some time, while the specialists examine the residents. Last year, the mobile centre worked in Talačyn for about a month and a half.
"It works very well for early cancer detection", - said Vishnevsky.
He believes that mobile rural health posts (RHPs) may be highly relevant today for providing services to both children and adults.
The rural population is shrinking, hence, a number of stationary RHPs provide services to only 150 persons instead of 500 according to the standards. On the one hand, they should be closed down as economically unviable: they require building maintenance and heating, as well as personnel maintenance. On the other hand, however, it will limit access to healthcare services. Therefore, a mobile RHP would be of great help; it will be able to replace four stationary ones, says the Chief Physician.
Aleksey Vishnevsky would also like to improve diagnostics, and generally raise the level of obstetric and perinatal assistance in the district. The performance indicators in these areas are quite high – there has been no maternal mortality in the last ten years, and the infant mortality is below the country average. It is important to keep them from falling.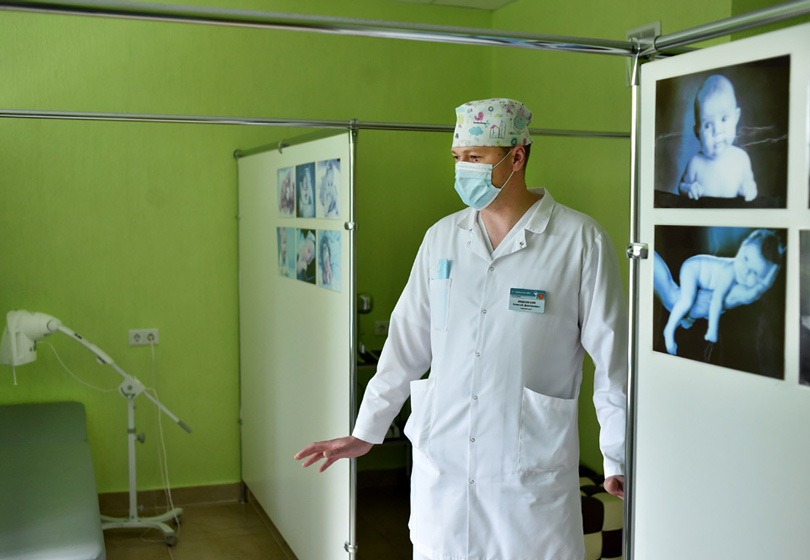 Those women, who are in need of assistance in the regional maternity hospital or Mother and Child National Centre, are referred to these establishments on a scheduled basis. Anything can happen, though: some people put off calling for medical help, some give preterm births. All hope is then banked on the district hospital medics and equipment.
"We are not going to replace major perinatal centres, but we must be prepared to aptly provide high-quality assistance during the first 24 hours. And that requires modern equipment.
To provide assistance on a higher level, says the Chief Physician, they need approximately 60,000 dollars for procuring foetal, bedside and haemodynamic monitors, as well as ventilators for new-born babies.
Such equipment is now available in the hospital obstetric department of the hospital, but it requires replacement. The project on Improvement of the Obstetric and Gynaecological Assistance to Female population of Talačyn District, and Medical Tourism Development has already been developed, and it depends on finding partners now.
Original source: Naviny.by.
Photo: Sergei Gapon.